Where is the Bedware Shop?
In order to get to the Bedware Shop you can either click "Shops" and it will be listed or take the more difficult route and put your Girlfriend to sleep, and then go to her Closet. There you will see a tab that will take you to the Bedware Shop where you will find Clothing, Sheets, Pillows and other accessories that can be worn by your Girlfriend while she sleeps. In order to purchase these items, you will need to collect Stamp Cards.
Stamp Cards
You'll receive a Sleep Stamp once per day when putting your Girlfriend to sleep. Collecting Sleep Stamps will complete your Stamp Card, which can then be exchanged for items in the Bedware Shop. You'll also receive a Sleep Stamp once per day when waking your Girlfriend up from a Sound Sleep State or a Perfect Sleep State. You are only able to receive a maximum of two Sleep Stamps per day.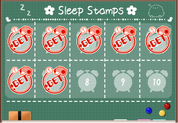 Ad blocker interference detected!
Wikia is a free-to-use site that makes money from advertising. We have a modified experience for viewers using ad blockers

Wikia is not accessible if you've made further modifications. Remove the custom ad blocker rule(s) and the page will load as expected.